Suzuran is one of the good spot to get a snack and take a little break during your trip.
You can have a Takoyaki which is the Japanese savory snack, and pasta, curry, cakes etc.
In a sunny days, I went there and ordered Takoyaki. (350yen)
There are  a little counter and table seat in the shop.
I sat the counter seat where I can see the staff making Takoyaki.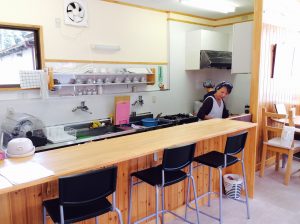 Takoyaki is a really popular in Japan that is a small-ball shaped  snack made with octopus,  some vegetables and wheat flour batter covered with Special Takoyaki sauce and Mayonnaise. It is cooked in a special molded pan. That's why it is fun to see the cooking process.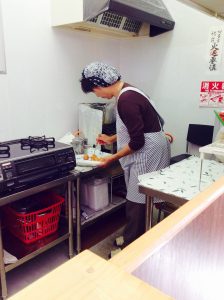 While I had been waiting for Takoyaki, I had a good chat with the staff.
This shop is run by local people and they wanted to have a gathering space for everyone to make a good comminuty. Therefore, I have got a warm family feeling by talking with them.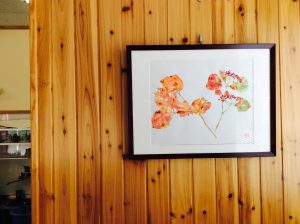 The Takoyaki had got crunchy outside and creamy inside.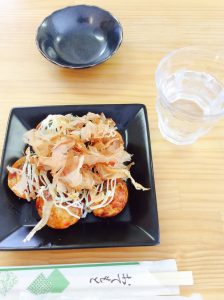 It is really hot in the begging, so when you eat them….just be careful to burn your mouth !!
The Takoyaki was tasty, so it had gone so quick! I wanted to eat more, but I tried the desert instead.
They sell a cake which comes from local cake shop "Furian". At the day I could get milk pudding with seasonable fruits.(300yen)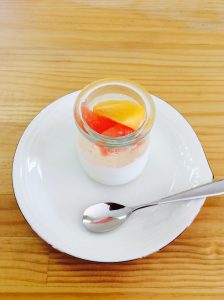 It was creamy and had got a good flavor of almond.
Beside of entrance, there is a little section that you can buy local vegetables. There were local Grapes and onions. They gave me the tasting of grapes which was so sweet and fresh. So, I bought one for my breakfast.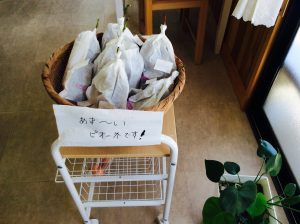 It is really good to have the place where we can chill out with tasty snacks and good family atmosphere.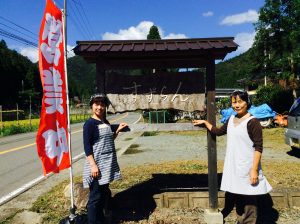 Also, you can take out Takoyaki for your picnic if you want.
Suzuran 
Adress: 15-1 Shizuhara Miyanomoto Miyama-cho Nantan-city
Phone: 0771-75-2100
Open days: Thu, Fri, Sat
Business hour: 10:00~18:00