The Little Indigo Museum is one of the great spot to see Japanese culture in Thatched Village (Kayabuki no sato). Hiroyuki Shindo is the owner of this museum who is world renowned Indigo Dyeing artist. On display to the public is a collection of indigo textiles from around the world, and a traditional Japanese indigo dye workshop.
Ai (indigo) is a dye that is collected from the leaves of the Japanese indigo plant. Its deep, bright blue color has attracted people from the ancient times.
Since indigo has antibacterial and insect repellent effects, and is also effective for preventing odors, Aizome clothing was appreciated as a remedy for skin trouble or eczema, while repelling insects.
After you enter in the museum, You will see the indigo workshop on first floor. There is a few traditional tools for dyeing and weaving by hand.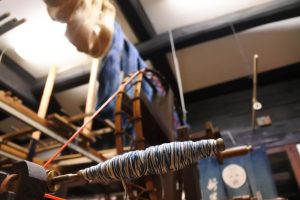 Although there are various methods to extract dye from indigo leaves, one that has become mainstream and has been handed down to the present day is the method in which leaves are fermented. So, you will see the pot of indigo extract which has distinct smell of fermentation.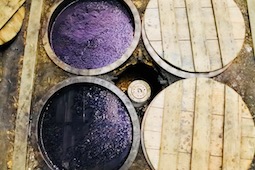 Second floor is a collection of indigo textiles from around the world, and also he displays his arts too.
In Japan, There were so many technique to make a design for dyeing. However, it has been disappearing. Mr. Shindo displays a unique textile with using the tecnique which no one be able to use the method anymore.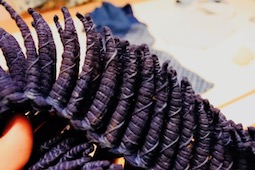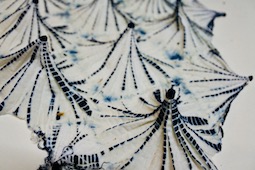 Mr. Shindo can speak in English very well. So, you will be able to understand the deep Indigo world in this museum.
It is called "The little Indigo Museum" but you will see a huge world of Indigo.
There is a shop where you can buy Mr Shindo's work. And few things are made by his wife too.